17 March, 2006
Posted by alex in
Denmark
,
environment
at 2:21 pm |

Permanent Link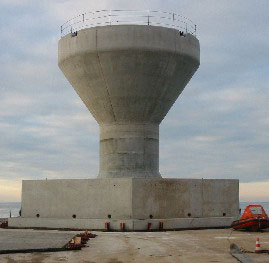 GOING OFF-GRID
by S.R. Nunnally
It's 8:10 p.m. Samso Time, Thursday, February 23, when the ferry pulls into dock at Kolby Kas after a two-hour float from Kaludborg. It's dark…and dusty. And cold.
There are no streetlights between cities, I notice, as I blindly follow the car ahead of me to the center of the 20-mile by 6-mile island, to Tranebjerg and Flinch's Hotel – my home base for the next two days. The island feels deserted, and it is in a way… February is Denmark's coldest month, and many of Samso's 4,300 residents are burrowed snuggly in their warm homes – a stark contrast to when an influx of several tens of thousands visit the island during the tourist season.
Many come in July for the popular music festival, the beautiful beaches, and sailing. But of late, Samso has been invaded by a different kind of tourist… an eco-tourist.
That was my mission… why I traveled over 4,000 miles: to discover Samso's Eco-Revolution.