21 July, 2006
Posted by alex in
anthropology
at 5:06 pm |

Permanent Link
[Women follow patterns. Whether they're set by White men, jews — or dogs. White men, most of them, are scarcely less pattern-conditioned than women. This girl was thrown to the dogs by her drunken parents; the jews are throwing our youth to the dawgs. Most people — breakthrough thought — cannot do other than follow the pattern set by those around them, dictated by authority in the form of government, teachers, and preachers.]
Cry of an enfant sauvage
For five years, Oxana Malaya lived with dogs and survived on raw meat and scraps. When she was found she was running around on all fours barking. Elizabeth Grice hears her incredible story
She bounds along on all fours through long grass, panting towards water with her tongue hanging out. When she reaches the tap she paws at the ground with her forefeet, drinks noisily with her jaws wide and lets the water cascade over her head.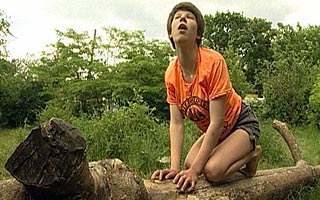 The Dog Girl: Oxana Malaya is now in a clinic and unlikely ever to leave as she lacks the skills to survive
Up to this point, you think the girl could be acting – but the moment she shakes her head and neck free of droplets, exactly like a dog when it emerges from a swim, you get a creepy sense that this is something beyond imitation. Then, she barks.