21 July, 2006
Posted by alex in
World War Wheeee!
at 1:46 pm |

Permanent Link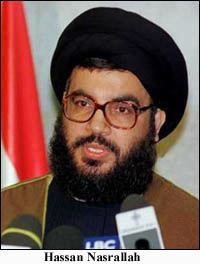 [Friday afternoon, jews were ramping up, apparently getting ready for ground invasion of Lebanon…]
THE SIDE THE WEST IS NOT ALLOWED TO HEAR
Leader of the Lebanese Resistance Speaks
NSNS Friday, 21 July 2006
We have all heard the standard Zionist line about Hezbollah "terrorists" in southern Lebanon. With the Western media deeply imbedded with the enemy in Tel Aviv, New York and elsewhere, that is to be expected. To help gain a better understanding of what is taking place in that tortured land, we present the following uncensored transcript of an address by one of the protagonists in the current struggle. Here are the remarks of the General Secretary of Hizballah (Hezbollah), His Excellency Sayyid Hasan Nasrallah, speaking on 14 July 2006, to the Arab nation, the Lebanese people, the resistance fighters, the Zionists, as well as to Arab leaders.
Peace be upon you and the mercy of God and His blessings!